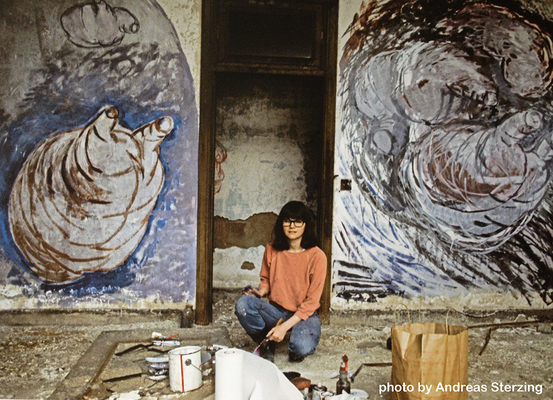 Jean Foos was born in Rochester, NY.

Foos is a NYC based visual artist. Primarily an abstract painter, Foos has developed sculptural pieces that play with the same grid structure and tactile qualities of her paintings. Along with painting, Jean has a passion for design that archives and elevates the work of her fellow artists—poets, painters, photographers, and performers. A book of her postcard drawings (over other artists' gallery invitations), Cannonball Lagoon, has been published by Ragged Sky Press. Her graphic work has appeared in BOMB Magazine and in the Brooklyn Museum's Agitprop! exhibition.

She moved to NYC to attend Cooper Union and lived in the East Village for over 20 years. Jean first had a studio at 32 Union Square East, and later moved many times to work in Soho, Bronx and the garment district. Her current studio is in Long Island City where she has participated in many open studios and pop-up shows.

She has been granted a National Endowment for the Arts Fellowship and has been nominated for the Joan Mitchell Foundation.

Galleries in Berlin, Rome, San Francisco, Philadelphia, Newark, Harrisburg, Princeton, Washington DC, Toledo and New York have shown her work.

Foos has been granted studio fellowships and residencies in Rome, Provincetown and on Governors Island. Currently she has a studio residency at Plaxall Gallery sponsored by Culture Lab LIC and Long Island City Artists. For the Summer/Fall 2020 she is part of the 4Heads AIR program on Governors Island.

In 2018 she participated in her second historical group show curated by Jonathan Weinberg. The first revisited the Pier 34 era (1983) when artists created works in the abandoned West Side piers in 1983. The second show included 7 fellow artists who kept working as the AIDS crisis decimated their community—titled "Painting to Survive: 1985-1995".
In 2019 Foos installed 2 sculptural towers on the Lower East Side—in Empirical Nonsense Gallery and the Every Woman Biennial (I wanna dance with somebody).
In January 2020 Foos was in three group shows outside NYC: Princeton, NJ; Harrisburg, PA; and Washington DC.
Currently her work is displayed in NY State Representative Jessica Ramos's office (Jackson Heights), Hal Bromm Gallery (Tribeca), and in Culture Lab's PRIDE exhibition.

--------
Above photo copyright Andreas Sterzing. Painting a room at the abandoned Pier 34 (at Canal and Spring Streets), in a show loosely organized by David Wojnarowicz and Mike Bidlo. 1982